How to liven up your laundry!

Because the laundry is a practical space, it's often overlooked at the decorating stage of your home. However, it is a room we spend a lot of time in, so a 'sprucing up' of the laundry can make those pesky jobs that little bit more enjoyable. Here are our six best tips to cheaply and effectively make your laundry a bit more special!
Keep it simple
As the laundry is often a narrow space filled with cupboards and appliances, it's usually better to steer towards a more minimalist approach in styling. Consider the amount of bench space you have and how much of it will be in constant use.
A great rule to follow is the cantaloupe rule: use few décor items that are larger than a cantaloupe (rockmelon). This will prevent the already tight space from looking even smaller. You should also think about what you can display that will also be useful. For example, a large decorative jar might be a great place to store laundry powder, and a stone soap dish can hold your liquids.
A splash of paint
Your choice of paint in a small area such as the laundry is a great way create interest and vibrancy. As the laundry isn't a zone many people see, it gives you the opportunity to be a bit be more creative and adventurous if you so desire!
If colour is not your thing, opt for a subdued paint colour that will make your laundry feel more spacious and renewed. Because it is usually quite a small space, if you hate the result, repainting it won't cost too much or take up that much time – it's a reasonably low-risk experiment.
Feature greenery
Touches of greenery in any room of the house are a great idea, and the laundry is no exception. The laundry is all about making things fresh and clean again, so some kind of greenery is a must. A pot of small succulents or other hard-wearing plants – or even a vase of fresh flowers – will really liven up the space.
And if you are prone to killing plants, fake plants now are super affordable and look very realistic! Feature one captivating plant in the corner of your laundry, or opt for a small group on a bench. Either way, it'll bring some life into an often plain space and give you something to smile at when you're in there!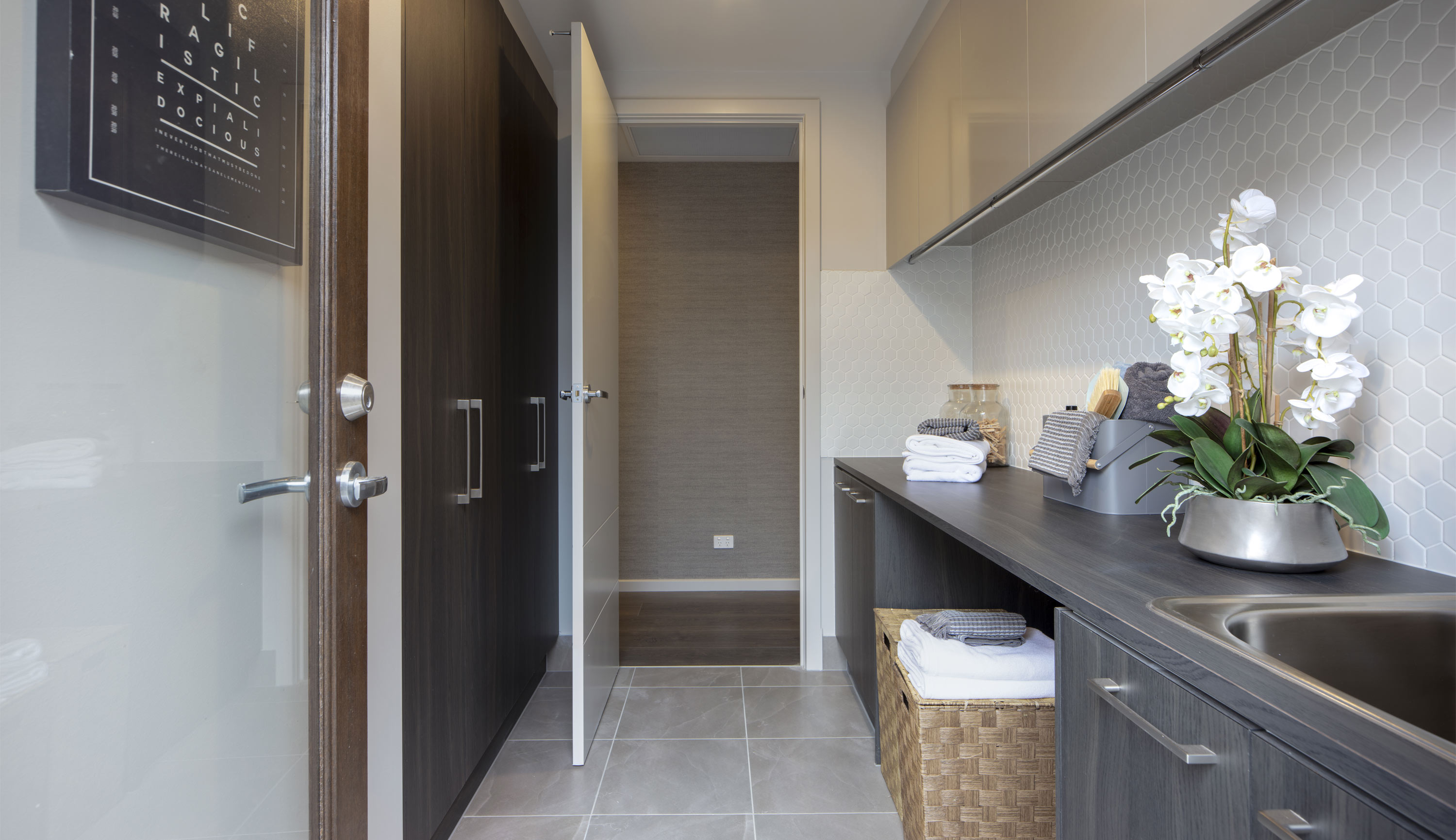 Cabinet handles
Depending on the style of the rest of your home, it might be a great idea to choose quality cabinet handles for your laundry. Or for some contrast, you can opt for handles that create a different feel than the rest of the home.
Sometimes something as small as a handle can have a huge impact, especially if you are choosing a handle in a specific style, such as industrial or modern. This can really be the component that changes the overall design style of this room.
Stylish art
Something you don't typically consider when it comes to the laundry is displaying art. However, this shouldn't be overlooked. There's all sorts of artwork you can have in a laundry, whether it's bought or handmade! Consider choosing a tongue-in-cheek print that gives a nod to washing or housework, or look for something super unique and personal to provide a real design feature.
If you're not keen on being adventurous with paint, think about making your own artwork to display in the laundry. This is a much safer way to experiment and let your artistic flare come through! You can try something abstract, or even have the kids help.
Style your soaps
Whatever hand soaps, detergents or liquids you use in your laundry, consider displaying them in a unique and stylish way. A tray or dish is always a good place to begin. Also consider decanting your liquids and powders into jars or ceramics that suit the overall aesthetic of your laundry.
Always remember the golden rule of styling: style in odd numbers. Therefore you may want to add a candle or reed diffuser, or a cluster two practical items side by side with the addition of one small décor item. Towels, small wooden boxes and plants are other bits and pieces you could contemplate pairing.