10 steps to make the most of summer

With the glorious summer days soon coming to an end, we can now focus our thoughts on making the most of what's left of the balmy Australian nights. There is nothing better than getting outside in this weather; whether it's having a morning coffee in your alfresco area or inviting guests over for an evening BBQ.
To help you get prepared for any outdoor entertaining, here are our top 10 tips and tricks for creating the ultimate summer backyard no matter the occasion!
1. Spring (or summer) cleaning
You want to start off this process by ridding your backyard of dust, grime and debris from the previous months of horrible rain and storms. Start by dusting your blinds and shutters, clearing your home of uninvited guest's homes.
Next, you want to start wiping down glass windows and doors, furniture, even go above and beyond to pressure cleaning your deck, pavers, tiles and/or bricks! This will instantly make your backyard look bright and feel new again. If you have a water feature or garden pond, be sure to clean and refill these too.
2. Check the deck 
If you have a decked alfresco area and have followed step one, your deck will be looking cleaner than ever. However, you will need to look for any spots on your deck that might require a touch of paint or a scrub. If your deck is looking rather old and weathered damaged, try adding a coat of varnish – it always seems to do the trick!
When checking for blemishes on your deck, make sure you test your deck is structurally prepared for an influx of people. Do this by gentling pushing on the surface to check the stability of your alfresco, and also look for wood rot and termites. Another crucial element to 'checking the deck' is to remove and replace stray nails – you don't want your night on the deck to become a night in the emergency room!
3. Show your garden some TLC
Depending on how well your garden has been maintained over the summer period, you may need to mow, rake or even re-sod areas of your lawn if it has yellowed or dried up. This will make your garden appear much healthier and lively! You should also do a quick walk around to ensure there are no holes or other hazards!
Now that your lawn is perfectly manicured, it's time to rid you backyard of those errant sprigs of overgrown trees and bushes to prevent your garden from looking unkempt. Be diligent at this point and ensure weeds are removed and flowering plants are pruned to perfection.
4. Comfy seating
Whether you are preparing your backyard for use solely for yourself or if you're planning to entertain guests, it is imperative that you have a range of comfortable seating options. There are many ways to create seating areas;
– Use scatter cushions and rugs on a flat surface to create the ultimate relaxation area while you enjoy the sunshine.
– Arrange seats in a designated seating area for guests. This may be around a table or a fire pit.
– Create a mix of outdoor lounges, chairs and cushions to create the ultimate laid back entertaining area.
The style and type of seating you choose will depend on the space you have to work with and the primary uses you have in mind for the area.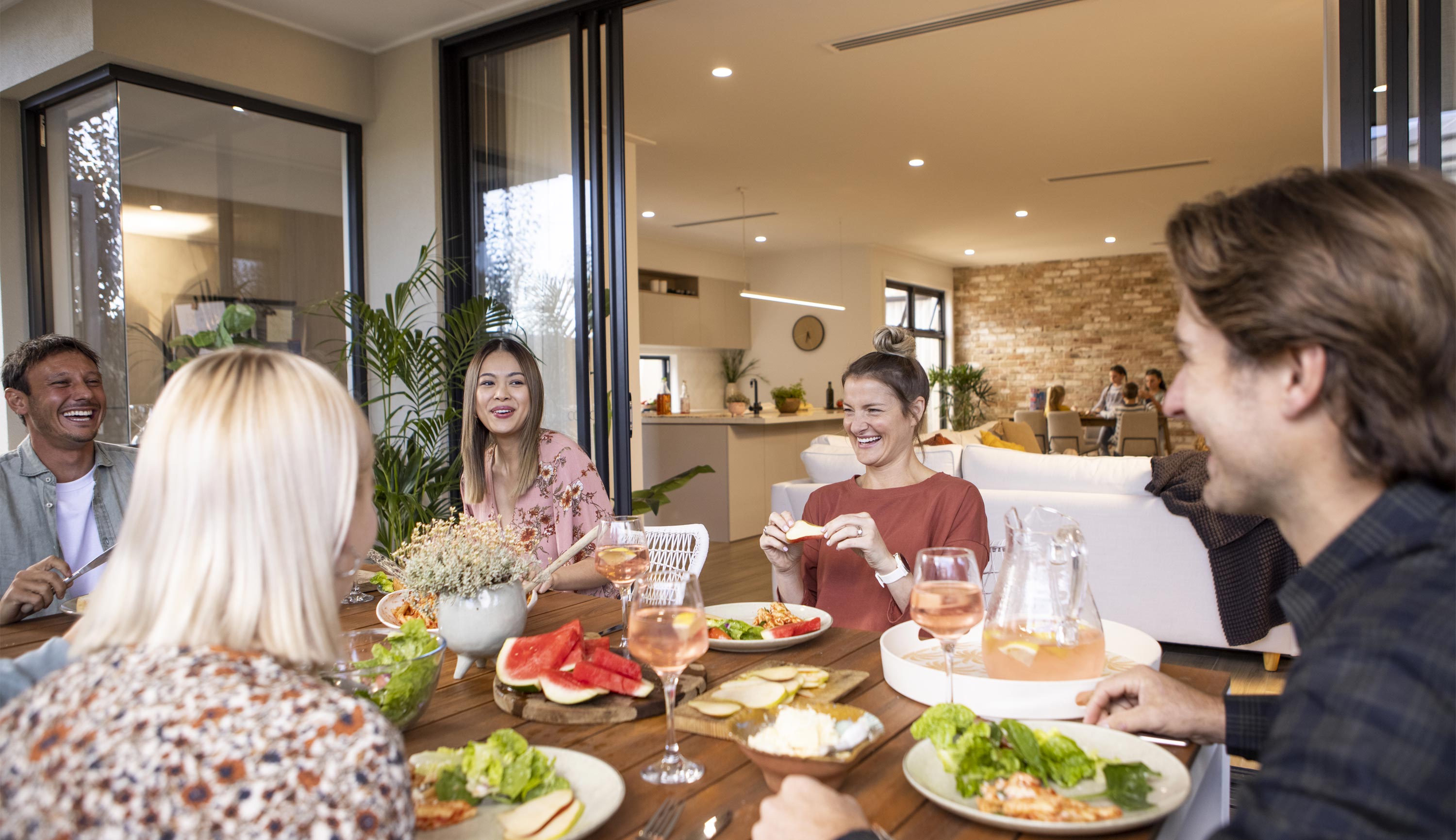 5. Light the way
Lighting is essential in creating an inviting atmosphere for when the sun begins to go down. It is also one of the easiest and most affordable ways to enhance your outdoor area. There are so many assortments of lights you can purchase now, so think big because there is never too much outdoor lighting!
We love the idea of lighting up walkways with solar lights, and there is a huge range of cool and eye catching string lights! If you plan to eat outside, consider arranging electric candles of different heights as the centre piece of your table – they will never blow out! You can even bring back lanterns by hanging metal lanterns in your branches – the possibilities are endless!
6. shade and shelter
In our harsh Australian climate, you don't want forget to provide shade for those scorching summer days. Think about incorporating awnings or a stylish garden parasol to your garden, or if you're thinking long-term, build a pergola to create the perfect shade.
If you're renting or want a less permanent fix, opt for a simple patio umbrella integrated into a small table, or add in a shade sail yourself.
7. Create a kid-friendly zone
Regardless if it is your child or the child of a guest, do the parents a favour by creating a kid-friendly zone! This will allow children to play outdoors in sight while you can relax and enjoy the weather, or cook up a feast with your friends. This doesn't have to be an expensive task and could include a sand pit, hopscotch, a fort, sid
8. Bring the beats
Having a small stereo that can withstand the outdoor climate can do wonders for entertaining, or even just for your own pleasure! The placement of your speaker is critical, as you may want it heard in every corner of your backyard, or only where the main entertaining will take place. The loudness also alters on the stereo you purchase, so make sure to do some research to ensure you get the sound system right for you!
If you want the best of both worlds, opt for a television – this could be on a cabinet or wall mounted. A TV would allow you to watch your favourite shows outside, but would be perfect for hosting a viewing of the footy or boxing! You can also use most televisions these days to play music as well.
9. Stash the clutter
Although you have completed all your cleaning and tidying, the last thing you want is to realise you have no room! Look around your alfresco and garden space and evaluate your options for storage.
If you are out of space, consider dual purpose furniture, such as a bench with storage compartments, or think about adding in draws and cupboards to your outdoor kitchen. Depending on your alfresco area, you can even utilise the space under the deck to pack up extra bits and bobs. There is always the shed too!
10. Don't forget the BBQ
What would a great Australian backyard be without a barbecue? Regardless of what you'll be sizzling, you'll want to spend some time with your BBQ to get it in tip top form. Start by scraping it down to get rid of your last meal's gunk and grime to clear the way for the food of your choice (sausages)! Remember to buy a gas tank too if need be.
Barbecues are not a cheap piece of equipment for your outdoor area, so keep reading those pesky catalogs until you find a bargain you cannot refuse!
Finishing touches
If you've completed our 10 step program and you still feel your backyard is missing something, here are some finishing touches you could make to add even more to your outdoor area!
Wine Fridge
Consider purchasing a fridge to store beverages of all sorts and keep them both refreshing and cool! This saves you and your guests from the trouble of having to venture inside every time to get a cold drink.
Pizza oven
Australian homes now house more than just the much loved barbecue. If you want to be more adventurous with your cuisine, think about purchasing a pizza oven to create beautiful homemade pizzas! If a pizza oven is not to your taste, consider incorporating a wok burner into your alfresco design!
Fire pit
For those cool summer evenings, create a cosy fire pit! Mixed with comfortable seating you and your guests won't have to move inside if it begins to cool down. Make sure you have an area stocked with wood beforehand!