Five ways to make the most of your space

Everyone wants to make the most of the space in their home, and there are many affordable ways to achieve this. Of course, the first step is clever home design (which we can help you with), but if you want your home to feel even bigger, take a look at our foolproof ways to make your home feel so much more spacious!
1. Start with ceilings
Applying an interesting or contrasting colour of paint, or even adding a funky wallpaper will certainly make a room appear taller, hence making it feel larger, as it draws the eye upwards.
Another way to draw the eye upwards is to hang shelves close to the ceiling, such as over a lounge or bed. This also acts as smart storage, which we will discuss later in this article!
2. Keep it light, bright, and simple
The oldest trick in the book, but it works! Keep your smaller rooms filled with light and bright colours to help your room feel more airy, open, and welcoming. Brighter colours, such as warm whites and light brown or grey, reflect light, rather than darker colours, which absorb light and make it feel more cozy and small.
Also, Sabrina Soto, a home styling expert says: "Decorative accents smaller than a cantaloupe crowd a room." So take Soto's advice and use fewer decorations that are larger!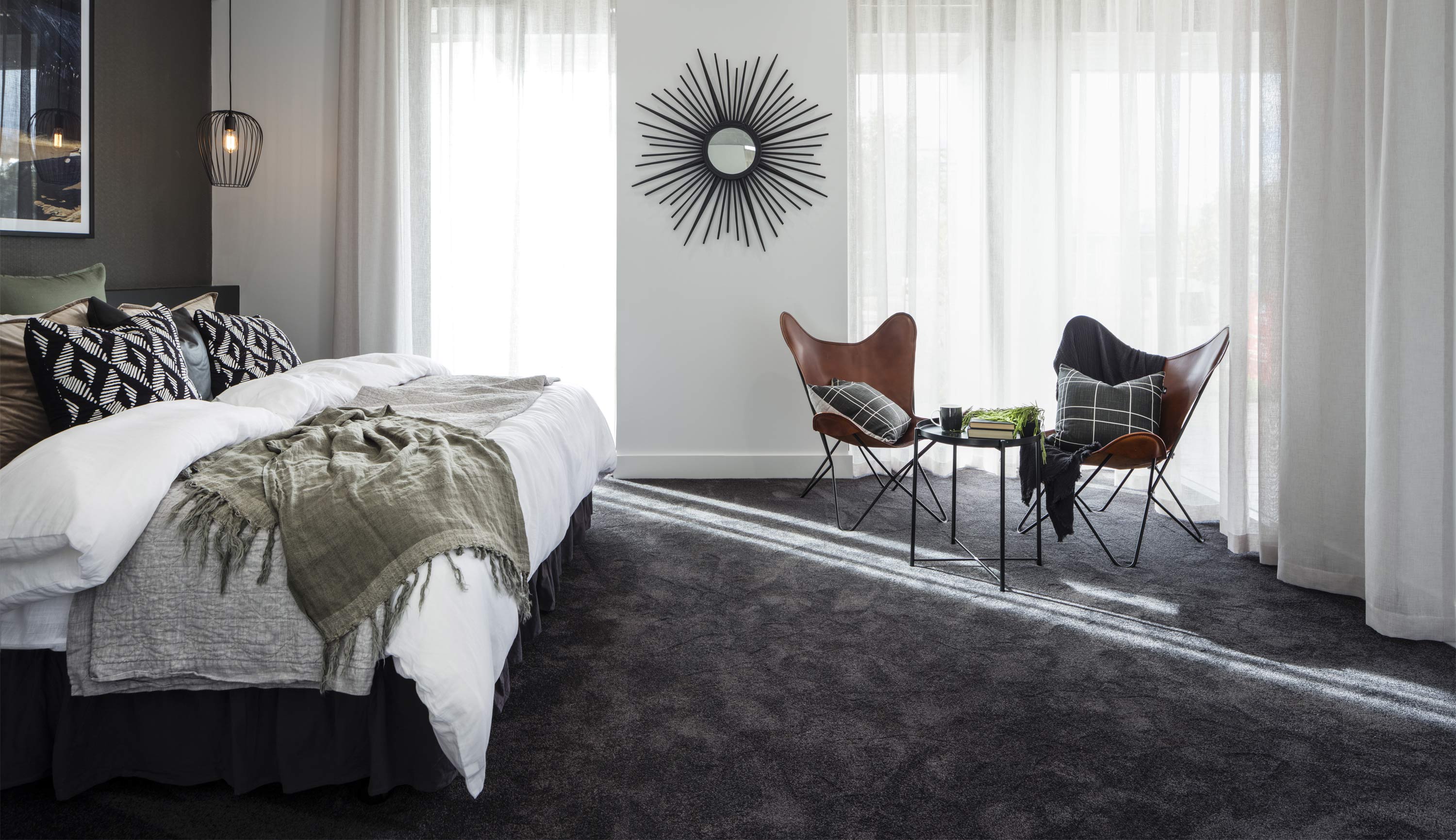 3. Mirrors, mirrors, mirrors! 
Mirrors are such a simple and helpful tool in making any room in your home feel bigger! Firstly, placing a mirror across from a window is the best way to reflect light and make the room feel more spacious. Another trick is to place a large mirror behind a chest of drawers or buffet for a glamorous illusion that makes it appear as though there is a whole other space behind it.
Tip! Where possible, position mirrors to reflect a garden or an amazing view – introducing a touch of the exterior world into your interior will amplify the relationship between the two.
4. Be smart with furniture choices
Clever storage choices are the best way to minimise clutter in a small room. Make the most of your wall space by taking storage from floor to ceiling, and think outside the box and consider where you could add more storage, such as the image above, where a kitchen has open storage added to the island bench.
Boost this with hidden storage, such as a coffee table with concealed storage compartments! Also, be selective with the furniture you put in your home if you want to avoid it feeling crammed. Instead of lounges with a skirt or boxy chairs,  furniture with exposed legs are perfect for a small space as it creates more visible floor space. Another trick is to use glass or acrylic pieces, which are super on-trend right now, and provide the added function of not taking up much visual space.
Tip! Purchase a modular sofa that can be adapted to suit your needs and create a variety of seating combinations.
5. Don't forget the floors and walls!
For small houses, less is certainly more. Increase the feeling of the size of a space by placing art pieces that are large and bold, instead of making your walls look more like a gallery. This will make your room feel less cluttered, but also give the illusion that your walls are bigger than they actually are!
Leaving your windows uncovered will give your space depth. If you're concerned about privacy, roman shades or blinds will appear less crowded than curtains.
Also, be strategic in what you put on your walls. A contrasting feature wall in a bedroom, or having your bathrooms tiled floor to ceiling, will once again draw the eye upwards and give the illusion that it is taller than it really is!
Exactly like stripes on an item of clothing, a striped rug aids in making your room appear longer. Orientate the stripes to run the length of the room that is the longest for optimal effect!
Tip! Use multiple smaller rugs to separate one room into smaller spaces.